RokuRss
Abstruct
RokuRss is the RSS reader which displays RSS on Roku SoundBridge display.
RokuRss can display RSS without stopping music.
It works on Adobe AIR runtime.
Screen shot
Flash Player 9 以上が必要です。
上記からインストールしてもコンテンツが再生できない場合は、下記リンクからアンインストーラをダウンロードして実行してから、再度 Flash Player をインストールしてください。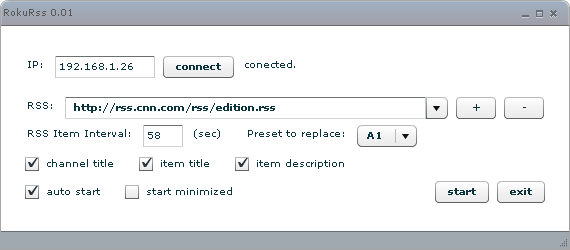 Download
How to use
Connect to SoundBridge : Input IP address of SoundBridge and push "connect" button.
RSS : Input RSS URL and push "+" button to add the list to display on SoundBridge. Press "-" button to delete from the list.
RSS Item Interval: Interval time to display each RSS item. Next two settings is nesesary on SoundBridge.

Remove check on "Setting" - "Return to Now Playing when idle".
Add check on "Setting" - "Scroll long info in Now Playing".

Preset to replace : Preset number used to display RSS.


Warning : Preset number selected here is overwritten!

channel title : Displays RSS channel title or not.
item title : Displays RSS item title or not.
item description : Displays RSS item description or not.
auto start : Start displaying RSS automaticaly.
start minimized: Minimize window at start.
start: Start displaying RSS on SoundBridge display.
exit: Exit this software.
Thanks
This program uses the Telnet Comunication Library of Flex Terminal Emulator developed by id:viver .
History